A couple of secondary students have jumped in to the spotlight with an article in the Sydney Morning Herald about their fashion blog. take a look. Well done guys!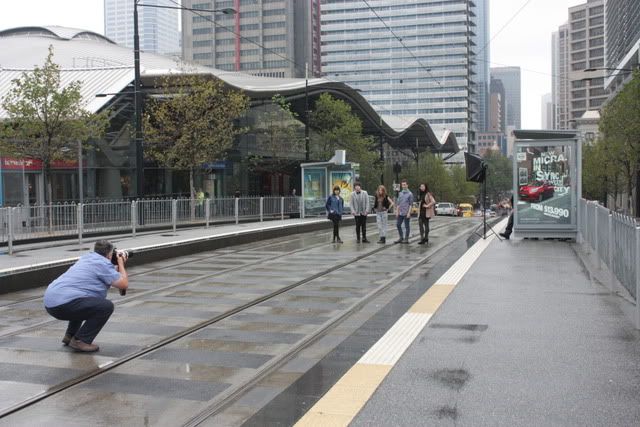 I sense there is an unease, a challenge, a difficulty but I am not overly sure if it's just me or others are noticing it too.
It was always an issue when I taught and as a student… Art Theory.
Any time the Art Teacher came up with information which had to be written in Art Class the students TURNED OFF. then magically switched on again when the prac work was back in action.
So how then do educators give both the prac side and the "theory/history" side a workout in a way which suits the audience (I'm thinking secondary students mainly but leading on from there too).
Lets take a look at what happens.
A curriculum theory is 'devised' "We ned to add a written component to our hands on subject".
Then comes… "What will we cover?" analysing art – using colour – how to processes – artists and their work – timeline and historical info.
The work – "Lets create a bunch of worksheets and go from there" Frankly this is just like "Students take down these notes…" a thing I dreaded as a student. (I am from the start of the photocopier era they were so expensive back then!) "then answer the questions in long sentences." at the end of the class the paper went in the bin, retention of info, minimal.
Is there a better way, are Teachers doing more than JUST handing out info for students to struggle with the writing side of things? Are we causing students to be deeply engaged in learning, in Visual Art… or are we merely 'going through the motions' rather than searching for excellence.
Lately I have come across 'game mechanics' this is the science (and art) of engaging players in computer games and the various ways the developers use to get people in, to get them "addicted" to the game. (I was addicted to Pac Man as a late teen). Ibeleive it offers GREAT insights into ways we can develop things to be more engaging, to be more in depth, to provide information which students will find far more engaging in the long run.
I'm interested in what can be done to ensure students time in Art class is useful, informative, 'fun', engaging and generally of value. I would love to see things which were perhaps more short sharp shocks of info they can get their teeth into and move on from there.
Perhaps instead of a big sheet of ho hum text there could be small Art Cards, picture on one side, info on the other which they have to write about. What about short sharp tid-bits of info on Artists interesting factoids which get students thinking and wanting to explore further.
If you are thinking about handing out a sheet which will take a lesson or two to complete, then I HOPE you will think twice and explore a fresh approach.
Do you have ideas? Have you seen better approaches… Share in the comments below!
Visual Arts has a role to play in encouraging us to search through the "fragments and bigger pieces" of our world and to piece them together in ways which allow us to explore, describe, contemplate, manipulate and bring them alive.
There is some form of social or emotional responsibility to ensure people have access to the Visual Arts. Through its exposure they can discover  forms of expression and exploration, which might one day assist people to define who and or what we are and or add to our cultural depth.
Being a Visual Artist is no easy path to take, with so much trial and error, stances, notions and stories to tell. Some will gain solace in pursuing its lofty ideals while others may struggle and be left drained by it's challenging demeanour.
The role of Visual Arts should be clear, as a necessary device for the creator which defines and allows us to explore. As well as a status device and thing of aesthetic pleasure for the viewer.
Let's value our Visual Artists and praise their work as a vital part of our society's health and wellbeing.
Untitled Steve Gray 2010
The long winding and very steep driveway meant the two hour journey in hot summer sun was over, the home at the top of the hill was framed by an oasis garden. It was the home of family friends at Metung in Gippsland Victoria.
Our family had a deep connection there, these warm and welcoming friends took us fishing and swimming and always managed to fit us in (all six of us at our peak!)
The home was an old miners cottage with a front veranda with a balustrade and a view across the small valley out front.
The gardens held a range of fruit trees and vegetables. At the height of summer the nets kept many birds out of the fruit trees but gave the birds a reason to be raucous pests upsetting the tranquility of this warm oasis.
Once ripe, the bountiful fruit would be harvested and eaten, bottled and transformed in to all manner of delights providing delicious reminders  until the next season, often with plenty left over to share with family and friends.
My Dad had met "Uncle Alan" during the 2nd World War and had been mates ever since. Dad spoke of visiting Alan and Edna after the war and how Alan had built on a room out the back if ever he wanted to stay a while, which he did. Dad spoke of the home-cooking, eating ripe fruit off the trees and enjoying being out on the lakes fishing in Al's boats. Fortunately for us as kids we got to do the same and it often gave our long summer school break a special highlight.
Although all this was a great way to spend short summer stays and grow up exploring beaches, bays, fishing and walks coupled with great country hospitality I still remember it was not always a bed of roses, there would be great times and lean ones as well, sometimes we would take food and bring most home, and other times the opposite would be true.
I recall saying to Dad, "Why did we leave all the food this time?" his reply was simple "Sometimes other people have greater need than us Son." I remember watching closely for signs of 'lean times' after that but rarely knew when things were lean or not.
As time went on they prospered and made it through challenging times, as if they knew the lean times would pass.
I guess it meant they appreciated the prosperous times more as if being taught by the fruit trees that abundance comes and goes, it's how you deal with the harvest to make the abundance last until next season.
We all need a way to handle the harvest and make it last until the next abundant season. In our situation this can be a metaphor for the Visual Art and the buyers thereof who want what we have, but sometimes not as often as we might like.
At first they might see the 'fruit' forming on the trees, then see the harvest ripen and then taste the sweetness first hand and enjoy that blissful moment of fresh juice running down their faces!
Now a delightful memory is formed and they want to soak up more, but unless there is a way for the fruit to be preserved until next time, then the sweet memory might fade soon.
The challenge is Galleries and Artists often hope more buyers will drop in and eat the 'fresh fruit' rather than building on keeping in contact and feeding the buyers with sweet offerings from that previous bountiful harvest.
Here are a few ways to keep building on the initial harvest to build a stronger base of delighted customers.
Get their details – Build a database now and keep in contact, if you want sales you are in business and you need to market to them now and for a long while to come, use the list to send them info on what you are up to.

Develop a plan – Contact details are one thing, using them is another… A plan, perhaps start with a calendar and mark out when you want to contact them. Before an exhibition, after an exhibition, all up find about 11 ways to keep in contact during the year.

Get Blogging – You want to let new and old know about what you do or are doing, new work being developed etc… this can be apart from your 11 contact points.

Use easy software – There are many Customer Relationship Management (CRM) software options out there, use one and put the details in there and milk it for all it's worth. (remember you are in business!)
While the first contact point with you might have been nice, your efforts to remind them and build on the sweet offerings you have will often be the saving grace when things are lean.
Keep your fruit trees nourished and well watered, for the winter of no fruit can be followed by the summer of bountiful harvest, how you manage that is up to you.
© 2011 Steve Gray