Could Meditation be the Key to Overcoming Creative Block? - Eve Pearce
This is clearly stating the obvious but one of the most important ways to remain at your artistic best is to ensure that your creative juices never dry up. There is little point creating something which is a carbon copy of what a thousand artists have already produced, no matter how skilful you may be. However there will inevitably be some periods in your life when your creativity drops. How do you reinstate it and make sure you can continue to work during these periods without compromising your art? Research suggests one method for doing this might be meditation. Some people assume meditation is unfounded nonsense but there have been various studies conducted throughout the years that have proven its effectiveness at stimulating creativity.
Convergent and Divergent Thinking
A study carried out earlier in 2012 by Lorenza Colzato and her team of researchers at Leiden University in Holland, concluded that certain types of meditation have benefits that extend much further than relaxation. The findings suggest meditation can have a long-lasting effect upon human cognition, influencing our creative thought processes. Colzato investigated the way in which meditation affects the two main contributors to creativity: convergent and divergent styles of thinking. Divergent thinking is a thought process used to generate ideas by exploring numerous possible avenues. It is a form of mental brainstorming where as many concepts as possible are created, some of them good and some of them not so good. Convergent thinking is the process of attempting to think of a single solution to something. It is thought to work in conjunction with divergent thinking in order to facilitate creativity.
Colzato and her team assessed which meditative techniques influenced creative activities the most by getting participants to take part in creativity-based tasks after bouts of different forms of meditation and then monitoring how effectively they were able to carry them out. She concluded that 'open monitoring' meditation enabled those taking part to perform to a higher level in tasks based around divergent thinking and 'focussed attention' meditation enabled them to do better at tasks involving convergent thinking. 'Open monitoring' meditation is meditation that does not focus upon a set concept or object and 'focussed attention' meditation is meditation that does.
Implications of the Study
The results of this research are useful to Artists because they provide instruction as to which forms of meditation can be helpful at different stages of the creative process. In the early stages, when you are looking to generate as many ideas as possible before picking one to work on, it might be useful to practice open monitoring meditation. Find a quiet space, sit down in a comfortable position and try and be aware of your thoughts and feelings without reacting to them, letting them wash over you as if they belonged to somebody else. This sounds difficult to master but practice makes perfect. When you have chosen what you want to do and need to figure out the best way of putting it into practice then you might benefit from focussed attention meditation. Again, sit down in a quiet place, but this time light an incense stick and focus solely upon the smell of the incense to the exclusion of everything else. You will find that this will clear your mind so that you are more able to focus upon the task at hand once your meditation session has finished.
Why Not Give It a Go?
As I have previously stated, some people are sceptical about the benefits of meditation to artists but it is a good technique for overcoming mental block and can create the piece of mind required to create art that is truly innovative and original as opposed to being centred on tired, clichéd concepts. Numerous well known artists meditate in order to gain inspiration, including installation artist Isaac Julien, who cites it as one of the most useful creative techniques. It is far from an unproven piece of new age rubbish; meditation is used by trained psychologists in order to relax patients, incorporated into drug counselling sessions aimed at treating causes of depression that might trigger cravings in addicts and even taught in schools as a means of reducing stress amongst pupils. Why not give it a try and see if it helps to get your creative juices flowing?
Your creative job role 'says' you can think in different directions, but after a while strategies and processes which once worked for you could run thin, become stagnant or otherwise fade into the distance.
No one in a creative role wants this to happen however when it does it having a plan of action to get a fresh perspective can be useful to find a fresh approach to that demon 'creative block.'
You could look at what you currently do and figure out some starting points from that (mind-mapping could work to do that). You could ask how others handle it (research the net for interviews with people in similar industries for how they do it) perhaps it's a cyclical thing and your 'biorhythms' etc. play havoc with your creative sensibilities.
Creativity might be a process driven 'thing' for you or perhaps an off-beat 'seat of the pants' ride into the unknown for others, an in-between view might list serendipity as the catalyst for a creative approach.
What next you might ask…
Brain basics - Perhaps we need to think about the creative process from a neurological viewpoint. Our senses take in information, our brains process it, it goes into our memories and can be retrieved. If This part of the 'Neuro process' is not enough (hey you have run out of creative options, that's why you are reading this yeah?) then you have to feed it with fresh material. for it to utilise. This way your brain can take some of the old and mix it with the new to let you formulate or percolate options to explore. Explore LOTS of fresh material for your brain, think "What can I feed my senses with (other than drugs…) which will be different to what I have been doing?"
Break your cycle/s – If you find you have challenges to your creative processes you might need to break some personal and or other cycles, are there specific situations or times when your creativity is at a low point? Are there external factors (other peoples cycles) which interrupt your processes. Knowledge of these may cause you to avoid them, work around them, and/or adjust them to suit.
Struggle free zone – If you struggle to create then the 'flow' of creative options can be hampered, so avoid struggling. Perhaps it's a 'self-talk' thing.  "I have to but I CAN'T!" This puts pressure on you to perform, pressure may well work in some instances for some but not for others, which is it for you? What if you are used to struggle and pressure to perform and you don't get it…Either way you get to deal with some form of struggle. Figure out ways to avoid it.
Connect with more creative types – The ones who want to share ideas openly, then you share, they share and so on. Record the ideas and images that form in your head anyway you can. I think it's a lot like panning for gold, the more you do it the more chances you have of finding some gold!
Get more of the right tools – If you want to build anything you need tools, do an interweb search for creative tools and make it your business to add to your tools, if an old one wears out or needs sharpening then get new ones or sharpen those you have.
Now make them work for you. In a results based world where goals are etched in stone (often by others) ensure your lost creativity can be found and your world is effectively mapped out. No longer will you be lost in your own territory, but you should be able to add to the map/s you already have.
I love hearing great examples of things I have discussed in my art ramblings on this site, one in particular happened recently in a chat to a good friend. He probably did not realise what he had said that made me go 'oh yeah, there it is' but it did.
The 'thing' that stood out to me, is to do with what you sell you work for, how you sell it and how people try to buy. Simply put a lot of people fall into a 'selling mode' more akin with everyday objects and not with high end, specialty products. Let's get this straight before I tell you more of his story, Art works are a high end item, they have been hand crafted, (generally one off's). This fact alone makes them special, those who know your artistic style will also know what makes your Artwork special.
If I go to buy any other one off specialty item, I immediately know there will be, no returns, I will pay the price set for it and there will be NO discounting (or even asking for a discount). Even if it's a product I order in at a shop, which is not normally in their stock lines the same (almost unwritten) rules apply.
The above illustrates the 'guidelines' people use to buy speciality items, there are rules…
My friend went on to say "I'm tired of tire kickers the ones that say, yeah I really like your work, when my tax return comes in I'lll get that… yeah… I will, Hey call me after the show and I will buy direct and save yeah… oh and how about a discount? But it's a while off yet before I get my tax back…" Needless to say they don't buy.
My Arty buddy has heard this type of excuse and many more like it too many times that he becomes frustrated and may not sell as much as he wants to. The funny thing is he doesn't need to be in this position, his role is as an Artist, he should therefore be utilising his Agent or the Gallery to do any sales and chit chat about the buyers 'situation'. His role is to create the works and talk to people about the art in terms relating to the works.
The problem is people view their world through various filters (created by values, beliefs and experiences), these can either limit what they see or expand what they see, This then impacts how they perceive and what they think about their circumstances and situations they find themselves in. My arty buddy has had enough experiences of 'tire kickers' he sees more of them than he should! Therefore people ask for discounts, ask to buy outside of the gallery situation (in the hope of getting it at 'wholesale rates' his frustration builds and the cycle continues. His challenge becomes how to break the cycle created by his 'filters' and move to the next level.
What can we learn from this.
Artworks are a specialty object - Treat it as such

You as the Artist should focus on being the Artist (especially if you have a gallery or Agent to do the selling) - Any questions about buying point them to the right person

Tire kickers probably don't value what you create - You do, so focus on those who ask more of the right questions you want to answer

Never discount, it seems to encourage tire kickers… - Remember there are guidelines

People have filtering devices, what are you filtering out? - Or what are you filtering in… Then ask what filters are others using… Especially significant others to yourself, partners and close family. Make sure they understand the guidelines around speciality products too, otherwise you might find them giving you to much 'lip' about 'selling more'

Value what you have created - You have nailed your heart to the wall (or floor) so love what you have done, the others can 'go jump!' - Also think carefully about the pricing, too low is often the case rather than too high, check 'your filters' for that one

Leave selling to sellers - if you have to sell then get the guidelines right! no discounting, no special 'wholesale prices' and yes others will give you grief and say 'you could have sold that…'

Buyers of Contemporary Artworks don't buy just to decorate - They buy to invest, they buy a 'slice' of culture, they buy because there is value to be had, decoration is probably last on their list
My Arty Buddy will read this and say "Oh…" followed by "Yeah but…" and my response… "Take it or leave it, my years of sales training, business and life experience, making artworks, watching people in Galleries, chatting to Gallery Directors etc is of value to me and hopefully it can be of value to you too."
I was a little surprised at the gallery staff for not acknowledging me as I walked in and out of their Galleries in the USA. A far cry from being acknowledged MOST times while doing the same thing in Australian galleries, I think it's good customer service..
At first I through it was rude, and then I considered they might have always been this way and we just do things different 'down-under' then my thoughts turned to economic reality. If they have been doing it tough due to the global financial meltdown then they probably would be focussing on the top level investors, rather than the possibility of a walk in retail sale or in my case a walk in viewer only.
I have heard the galleries there have got 'serious' about the way things happen, if you want to purchase a piece from a high end gallery you had better make sure you are 'worthy' of having the piece, it's no longer enough to be able to afford it but you need to show you are going to add value to the mix. Somehow you need to show you are a Visual Arts zealot, willing and able to promote Visual Art, Not going to JUST hang the piece on the wall at home or in an office where the general public never gets to see or appreciate the works.
With so much high level thinking and posturing about the guardianship/ownership of Art works, it's no wonder the galleries showed little acknowledgement of my presence. In fact I should be pleased they let me in at all, perhaps they will one day develop a scanning device which will only let in those who meet exacting standards of "Artistic merit".
Art Galleries (esp. commercial spaces) have long fascinated me with their various approaches to showcasing art, how they select and or reject Artists, how they support and nurture them. So to see the USA approach should not have surprised me so much as caused me to realise Art Galleries are still fascinating places to observe and connect with.
Here have a free copy of a 63 page PDF book, download it to your computer and read it on your favourite PDF reading device.
Your Guide to Understanding and Working in Visual Arts
If you get some value from it, hit the donate button on the side and show some support.
Feedback, yes please!
Note this is Version two of the book after exhaustive work by a number of Students at RMIT in Melbourne, Peter Biram their teacher and yours truly, taking on board their comments and thoughts. Many thanks guys.
Whilst wandering around the Art Melbourne 'Art Fair' I was taken with the quality of works on display this year, and in the individual Artist section, one thing stood out to me from a marketing perspective. What were they aiming to do?
Showcase themselves to galleries?
Sell the work directly?
Show investors and or 'Art Lovers' they mean business?
Do an 'art event' to add to their bio?
Some will say 'all of the above' while that's a nice idea, I wonder how many did all of these… oh sure the last one is a no brainer, they all get to add the event to their bio… But about the other points how do you think they would have gone?
Every gallery I know is turning away Artists, even very good ones. Did any of the Artists invite gallery directors to come and view what they had on offer and chat about what they had, or did they just hope to be the next big undiscovered Artist the gallery would find and 'take under their wing.'
Selling is almost the natural enemy of the Visual Artist (that's why they want a gallery to represent them) Some did, and that's great but was it because they 'sold' the work or people just liked it and bought it. (Ooh those colours will go nicely in our living room…)
No idea  how many 'Investors' were there… Art Lovers yep.
So for the investment of time and effort, was there any value? For those who travelled from interstate, it takes a lot of organising, transport costs, air fares and the like to get there and be there for the whole time, 3 or so days standing, waiting, chatting, shuffling, keeping amused in the quiet times, knowing what to say in the busy times.
I guess it's one of those things of 'damned if you do and or damned if you don't' so it's a try and see type thing. Will the Artists come back next time and do the same? Did they do enough this time to stand out from the crowd and get noticed for 'all the right reasons?' Or was it a sore feet exercise that drained their bank accounts, energy and spirits enough to say 'Never AGAIN!'
So Dear readers I leave you with some marketing questions, did any of the Artists involved, know specifically why they wanted to be there? Did any of them achieve this? Did any of them do research to find out from previous Artists what they thought…
Do I have answers for any of the queries I have raised? probably a few notions and concepts but in the end it's more about what the Artist wants and then figuring out how to get there. Go ahead and post some comments on this article and see if any of the issues raised spur me on to writing about options and possibilities.
Why do you do it (make art that is)
There are many reasons for making art, so what one or two fit for you?
You have the skills so why not
You are told you have the skills so you kept stumbling on
You started and feel you can't stop
People keep telling you,  you are good at it
Without the process of making in your life, things seem meaningless
You have become passionate about art, the process, the materials, the ability to explore and more
You love the creative engagement
As a way of more effectively communicating to others
Express thoughts, concepts, notions and emotions
To make money
Create objects of beauty and or some other aesthetic value
Record or commemorate a time place, person, event or object
Make and or explore cultural connections
Tell stories, explore metaphors
To create therapeutic value
To create objects of adornment
Seek to explore and or explain the unknown
To create a devotional device
Increase global understanding
To create an artefact
To cause us to think.
Whatever your reason/s do  you do it for the right reasons or other?
You are probably about to start your studies for this year and are wondering what will be in store for you.
Perhaps you are just starting out in secondary school at maybe Yr11, your folks said yes to you doing Visual Art because you have taken on a bunch of highly academic subjects and this will be a welcome break from all that.
Perhaps you have done Yr 11 and you liked Visual Art for some reason and want to do more, something seems to be compelling you to carry on. Your folks are still happy(ish) for  you to have this as a break from other studies… Your Father wants you to go into accounting or some such, your Mother just wants you to be happy no matter what (sweet aren't they).
The Art Teacher says at the parent teacher interview you should do Art because you are good at it… maybe it's the first time you have heard that and it feels nice.
Perhaps you have completed Yr 12 and are looking at what courses to do. Your Mum's words of 'being happy' seems to suit you more than some career choice your Father has in mind. Besides, the Art Teacher said you were good at it and the word career seems so, well, final, and long term.
"I want to do art Mum" (words which will may haunt you forever) - Your mum goes into bat for you, your Father tells you he loves you and with gritted teeth he says "whatever makes you happy" followed with "I just hope it's the right decision" (the guilt starts early but now you start to notice it's cruel bite).
Now with excitement and a dose of trepidation you stumble forward, the course is signed up, you spend the summer break telling your friends, you get a little arty in the way you dress and wear you hair, it's all part of it right? Mind you any thought of drawing, taking photos or any visit to an Art Gallery seems like some form of imposition.
Then things get underway, you don't realise it yet but the teachers talking at you may have had exhibitions (possibly quite a number of them), they have probably struggled to make any decent cash from the sale of their work, and they may suggest that "It's art for art sake" and their argument then seems to get clouded in various forms of justification for the arts some of which may proclaim it as a lifestyle.
It's all heroic, you, them, their stance on Art, learning about cultural things your circle of family and friends may never seem to grasp (philistines!)
Paint on canvas, clay in kilns, metal beaten into submission, computer graphics that defy logic and a bunch of theory work you just want to sleep through (the arty parties can do that to you)
Before you know it the study is finished, the folio is bulging (or not) and there you are standing all alone, as if on the edge of a massive cliff. The wind howling about you ready to push you off at the slightest misstep. Then words from the seemingly not too distant past echo in your mind 'I just hope it's the right decision' and 'Just be happy'.
There you stand pondering what next. Will I make it as an Artist, will I get that magical 'creative position', or will I be resigned to a life of working in an Arty Shop, or some other form of job you so willingly describe as slavery, which you could have done all those years before with or without a 'qualification'.
Life unfolds before you, time fleetingly drags you into the unknown with a clear disdain for any dream you may have. In a stupor of positive energy you grab a list of Galleries to go visit. You tuck your wares under your arm and fall headlong into the misery of trying to get galleries to take you on board.
It's then that you realise you know so much, yet so little about the whole "Visual Art thing" and that your qualification only stands as a reminder of a small part of your ongoing education and connectedness to art. It's then you realise the hard bitter battle you have started and may not win (ever). It's then that you realise your heart is an object to be trampled on and kicked aside by others who take a deep breath and say "Oh, here we go again, another ex art student… sigh."
You also realise this journey is more than a qualification, more than a piece of paper with your name and a stamp of approval. No, you are just beginning to realise the world owes you no favours but gives you endless opportunities to explore, make statements, hold a flame of truth aloft and forge forward with hope and a rickety confidence stemming from who knows where.
Your journey has begun, travel well young person. Learn much and learn often, give everything your best and hold your head high. This thing we call Art is a beast to be reckoned with, which can test every fibre of your being and in exchange it MAY give you great gifts, but don't hold your breath, if fact you might do well to give up now, walk away from the alluring beast, stand aside and let it pass by. Pay it no disrespect as it does pass, and you will live a life less tortured free from the shackles of it's malevolence.
However if you do let it pass by will you ever know the ecstasy which can come from the angst ridden beast? Will  you ever know if you are the next Picasso or Rembrandt? Will you ever know if this thing which started out with your Art Teacher telling your parents 'you are good at Art' can give you an enhanced spirit, a sense of belonging, an edge in making sense of this crazy crazy world.
Go forth in this bizarre world and make your mark, but do so guided by more than just a throw away subjective line about your skills, or your retaliation against your Fathers advice and guilt throwing. Go forth in the world with wonderment and joy, explore deeply and rigorously and let all that it presents fill you with ecstasy. Then and only then, will you be able to hold true to your ideals of Visual Art, creative life and all it has to offer.
Creative idea development is a big thing for some, trying to explore and follow idea starting points to give their works added depth and meaning.
I'm a bit of a fan of using words and statements to explore with, so I thought I would share one method I stumbled onto recently.
My work has been following a couple of directions and one of those has been heading into 'dark territory' where malevolent ideas have been thrown about. I now find myself coming back to this point. But my visual ideas were seemingly going no where and so what to do.
My last visual idea had dark figures in it, so I did an internet search on that. This led to a few things and I jumped on the idea of getting to the "essence of darkness" so I then zoomed in on eyes and breathing, contemplating options about how they might be explored for my theme.
The visual options in my head were off on some tangent… the name Richard Serra (Artist) came up somewhere in the search, I was now off to look at some of his images and drawings. Interesting, I started to think more in terms of symbols and how I might tackle things from there (I already do a fair bit of symbol work so it fits).
I did some word work searching some more and coming up with more options, this is what I got.
- Dark symbols – Black liberty – Black place. Then my thoughts stumbled across the notion of what's this all about? Persecution – Bad treatment of people – Liberty… but how are they liberated if they are killed in process? Hmm some sort of spiritual freedom might now be the case.
Therefore my final statement hit me as I pondered all this "You are now free".
This could become a title for a show – a single work – a body of works – a series It's now up to me to put my findings into some visual concept and see if it all fits to my notion of what I might want it to be.
As a Student, or Artist, whichever position you are in, stop and have a think for a bit. What do you want from Visual Art.. and perhaps why do you want it.
Lets explore a little. Oh and feel free to give me feedback via the comments as I think this is a hot topic to think about.
Student
Learn about various materials and processes
Develop an understanding/appreciation of creative processes
Develop a body of work
Learn about the theory and history of Visual Art
Explore the cultural and or other implications of Visual Art
To explore and or respond to your subject matter
To develop concepts, issues and notions about your art in a contemporary context (self - wider community - global)
Other?
Artist
To explore and or respond to your subject matter
To develop concepts, issues and notions about your art in a contemporary context (self - wider community - global)
To perhaps make $$ from the sale of your works
To experience the responses your audience has about your works
As a device to build your status…
Other?
Note at the Artist's level the wants can be different to the student's but there is a solid overlap.
Would working on these points assist or hinder the people involved? or would it provide a springboard for further discussion, development etc…
Let us know what you think!
When a piece is finished
When and or if their work is valid (or not)
When the theme or series they are working on is actually working! Useful or otherwise.
If the doubt they feel when working on a series is relevant to their level of emotional input
The works completed would meet with peer approval and does that matter?
Their family and non art friends points are valid or not
If peer or critic approval is a valid and relevant guide to assessing their works
They are not just manifesting the work of other Artists they have not yet met or found out about and does it matter
If they are manifesting the work of another artist because of some subliminal influence, perhaps seeing that artists work years before and is that an issue
If they should soak up the work of other artists by going to Contemporary Art Galleries, perhaps it will make them feel inadequate somehow… and what if it actually makes them feel good, do they then get despondent because they may not be represented by a gallery or perhaps because they feel in their heart their works are better somehow
If the methods they use to create the work will hold the test of time and does it matter if they are creating art for art sake…
When they have an exhibition if it is poorly patronized, does that mean they have failed, or is it the marketing that failed, or the gallery, or they don't have enough art friends? oh the pain
If the work/s is/are adding to their own or the wider communities 'cultural depth'
These and I guess many other questions float in the heads of Artists, I know some of these do in mine. Is it good to have so many doubts floating, so many queries bubbling, so much angst, annoyance and pain. Well I guess it sorts out the 'wheat from the chaff' as they say and in the end if you have created works which may have significance to you then others will see the genuine you in the works. Those close to you who know the process will (hopefully) appreciate the 'struggle' and the life journey Artists are on and be supportive.
I have long been an advocate for Art Students (and Artists for that matter) doing lots of work and focusing more on quantity than quality (to a degree and depending on what medium they are working in etc.) so they can work fast through issues and not get bogged down in the 'is it ok' scenario.
Recently I have been working on a big bunch of paintings and have now accumulated over 40 works in a few months, each one put aside and not looked at as the catalyst for a new work bubbles to the surface and off I go. That one is put away and I move on again, and again.
At one point I counted them up and started to take photographs… nah too hard. Ideally they would be hung and photographed in situ to make the whole thing easier. It's a 'catch 22′ how do I show people without the photo's (the old days of dragging works from gallery to gallery is surely over…)
So as you can see readers my questions posed at the start are a solid part of my reality and if I am not careful I would end up 'looping' (not loopy! Well not yet anyway…) this is a process where your brain ways "Yeah go for  it, make art" while a short time later "I can't do this… it's not valid" and then "Yeah go for it!" and so the cycle continues.
Welcome to the Visual Artists lot in life, a struggle of immense proportions at times.
I've recently been having fun playing a Djembe drum in a drumming circle, fairly casual affair and good value.
Being inquisitive I started looking for ways to make a drum (too stingy at this point to fork out $250 or so dollars to buy one). Started looking online, hmm… off to the hardware to explore some other options.
I came back with a length of PVC pipe 110mm diameter x 1000mm long, a stainless steel hose clamp (to go around the diameter) and a piece of clear PVC (fairly thick). I sanded off one roughish end to make the hard edge rounded, wiped the dust and such off it, then pulled the piece of PVC over the top (it was sunny out so that part was easy), I set up the hose clamp over the top edge pushed it down about 1 cm and did it up, pulling the PVC taught as I went.
Drum! A bit of a bash about with it and it sounded ok (not sure my drum groovy guru will think so but hey…)
I may try some differing lengths to see what happens.
So the Art part, well you could sand it off a little and paint it in acrylics or enamel… or create a sleeve of fabric, decorate that and attach with velcro or  a lace up arrangement. Perhaps sheets of paper wrapped around could be useful too. (ok a little bit primary schoolish..)
Go ahed make one, explore the sounds and decorate it.
Make noise have fun!
If I was a teacher of senior students, and those in Uni courses etc. I would love it if students came and asked questions, lots of them! Or even if they chatted more to explore Visual Art activities.
I think other teachers would be the same… it would clearly show they have an interest in the subject and wanted to know more.
So how do you (as a Teacher) go about getting students to ask more questions? Chances are you will have a bunch of methods to use or perhaps only a few. Consider trying these on for size.
Set a project which they have to ask questions about (as the details are bare basic and need more elaboration).
Set brainstorming sessions up on a topic of interest and ask them for ideas. (Can work well with an open ended question to explore).
Set up a step by step process, show them without telling them - Then get them to ask for clarification at the end, then get them to write it up in a journal or some such… - Then ask them if there are any questions…
Consider creating an "Art Game" or activity where they have to explore ideas to a point, and then have to ask questions for clarification.
'Stack a bunch of questions' (ask a lot of questions quickly about a topic) to cause them to think (and generally as their brain fights to get a word in edgeways) when you stop they get going. Then the challenge can sometimes be to get them to stop.
Just ask… "Any questions about what this 'art stuff' is all about…"
Pose a question that can lead to a million or three possible answers. "What is cultural depth and how does Visual art fit into that?"
I figure it's a great routine to get into, so people can more naturally explore areas of interest and look at ways of being more engaging, articulate and generally more interesting..
Exploring various materials is often a major part of Visual Art Studies and it can be easy to forget a few here and there, so I created a simple list to work with.
Somehow Teachers need to get through a fair bit of exploration work, often in tight time frames. This list should give them a reminder of items to include in their efforts to ensure Students have a good start to extended studies.
Students you can use this list to suggest materials to your teachers. This way as you move into other areas of study in Visual Art you can at least have some level of skill in many of these areas.
Oh did I leave anything out? drop me a line if I did!
2D
General media
- Drawing
- Collage
- Pen and ink
- Marbling
- Paper cut outs
- Stencilling
Paint
Acrylic

Gouache – watercolour

Oil paint

Encaustic

Spray cans
Support
Canvas

Paper/board

MDF

Steel

Plastic



Print
- Lino
- Etching
- Stencil work
- Collographs
- Mono prints
- Copier prints
- Screen printing
Digital media
- Photography
- Photo Manipulation
- Animation
- Digital painting
- Graphic design
- Multimedia
3D
Wood
- Carving
- Construction
- Found object development
Ceramics
- Coils
- Slabs
- Pinch pots
- Busts
Mixed media
- Paint and added media
- 2D – 3D
- Installation art – Found object – Impermanent works
This art stuff… What is it anyway?
Don't you love it when people ask, and you decide to show them, you take them to a gallery and end up with a sore head. Or if you are a student and you think you have it all figured out, think again. Visual Art is many things to many people and I figured I would weigh in with some starting points to consider, so next time someone quizzes you about what art is… throw this at them!
Visual Art may be…
an item/s created with the intent (at some stage) of being considered of some aesthetic, or other value
fascinating

telling a story

decorative

working on the 'lunatic fringe'


fragile

impermanent

conceptual

absurd

permanent


personal

obtuse!

mechanical

organic

inorganic

kinaesthetic


direct and straightforward

a nuisance

testing our wits

a way to explore

narrative - descriptive

arrogant

impulsive

impressive

depressing

'rattling the cage'

disgusting


frightening

clashing with sensibilities

jangling nerves

fashionable

faddish

anarchistic and or anachronistic!

taking you on a journey of discovery

pushing your buttons

enthralling you

exploring aesthetic sophistication


annoying

a thought, an action an object or a combination of these

leaving you wondering

random

meaningless

meaningful

elating for us

functional, or not

whimsical

subtle

strong

eclectic


disconcerting, confrontational and beautiful

not telling a story, or the opposite may also be a relevant notion to consider

provocative

symbolic

aggressive

assertive

violent

A device to add to our cultural depth

subdued

sensitive

delicate

deeply personal

therapeutic

terrifying

relaxing

causing us to think

causing us to explore issues


of aesthetic merit, or not

imbuing meaning/s onto things, or notions about things or processes

causes us to drag out a dictionary to explore word meanings

challenges our linguistic deftness, or not…

more…  Go on do some of your own thinking about the issue and add ideas and options into the comments for this post.

Art seems to be more about a person making objects as part of an ongoing process than it is about creating things of beauty, it will certainly challenge us and as a part of our cultural fabric it becomes a device which can lead us into fresh territory to explore the real and abstract in ways we may feel unsure about.
Don't expect Art to soothe your soul, it may in fact disrupt your soul, interrupt your rational thinking and aggravate you to no end.
Perhaps "Art" is therefore more about moving or adjusting people intellectually and or emotionally more than it is about notions of Aesthetic sensibility…
Lets combine what art is with some of the benefits or features it may provide.
Visual Art -
can challenge collective consciousness

can be of cultural value by exploring cultural themes and issues (personal - political - religious - community - business - environmental - historic - other)

can be a way of strengthening cultural integrity

may be of value to explore and expand on rituals  and symbolism

may be able to give us some access to how others think and explore/understand/appreciate their world/s (which we may not be able to gain access to by other means)

provide distinctions on subjects and objects of interest

may assist in cultural and historic recollection


challenge our perception of the world and things we know

can be a vital part of contemporary culture, helping us to make sense of, or come to terms with the world around us.

reflects life, or the lack of it

can be cool

hovers in the space between recognition and ambiguity, figuration and abstraction

the product of our creativity and or challenge our notions of creativity

has some part to play in reality, reality inversion (or aversion as the case may be.)

questions our assumptions about certainty, materiality and the future

a delicious entree into the human condition

can cause us to consider our own place in the scheme of things

may cause us to experience heightened depths of comfort or discomfort

may address fundamental human truths

may be about addressing other 'truths'

can cause "visceral intensity" (deep inner feelings)


may express the abject indifference of things

may express the sheer positive joy of life

can be intelligent and intensely inventive

can be of historic importance

plays a vital part in our cultural heritage and cultural depth
Combine this information with this article, and you might just develop a solid starting point to appreciating what this 'art thing' explores.

There, now  you know what art is!
Consider taking this list with you to an art gallery and inviting the good staff there to indicate which of these descriptors best fit to the works on display… you might cause a stir, now wouldn't that be fun!
Perhaps you could become a conceptual artist in the process, who would know?

Visual Art plays an interesting role in the community and if you ask practically any Artist they will probably agree, yet to the wider community you may have a challenge on your hands trying to convince them of that. The challenge is multi-fold, getting enough people involved and engaged in exploring it (viewers) and enough Artists to create and exhibit to the wider community, then follow that with selling the benefits to the sponsors and supporters of these sorts of initiatives.
Community based art initiatives show up in some interesting places. Pop up galleries, public murals (and graffiti), online galleries, through to organizations engaging the wider community by supporting Art activities in the community where there are a hundred and one ways  the community can get connected to Contemporary Visual Art.
Be it a school offering to connect Visual Artists with their students (Artist in Residence programs) or in a shorter term burst (an exhibition in the school by Contemporary Visual Artists from the wider community). Or community festivals where Contemporary Visual Artists have the opportunity to connect with the community
Perhaps it's a series of community therapy sessions for communities which have been through massive group trauma (bush-fires or floods). Or even a simple exhibition as part of a fete or another community event.
Whatever the community connection, the aim is to cause some level of communication to take place, perhaps to instil a notion of community pride, an acknowledgement of the role Contemporary Visual Arts can play or a cultural connection at a personal or group level.
All of this is fine as a concept, but the task then becomes to figure out ways to make that communication effective and find ways to connect in ways which will be of value to both parties, the Artists and the wider community.
How then do Contemporary Visual Artists communicate their visions, their concepts and ideas to an audience which may be indifferent to having objects presented to them which can confront or at the least tackle their own ideas of what's suitable to look at and make sense of.
I often think there are people to blame (perhaps Art Teachers) for not providing students with suitable knowledge to go forth in the community and appreciate what they see (if even to a small degree.) However I could say the same of high level Science and Maths as just a minor starting point examples.
Should we therefore stop connecting to the wider community even though we have excuses to do so? Should we stop creating Contemporary Visual Art for the community because 'they might not understand'?
Perhaps the answer lies in seeing youngsters in an Art Gallery being given a cultural 'shot in the arm' by well meaning parents. The child's wonderment and eager viewing through innocent eyes should be the catalyst by which we start measuring the value of things, and having the opportunity to explore that which is visually intriguing and getting fresh views on the world as we know it.
Perhaps the answer lies in Art being for Art sake and the Artists playing Hermit and hiding away, buried in a maze of self consciousness and avoiding connecting in any way.
Whatever the answer I hope the notion of connectedness to the wider community becomes a topic of exploration, so you can test constantly explore the value of Contemporary Visual Art and push it's meaning/s (or not) due to the community being given wider exposure than might normally be the case.
Visual Art holds a place (although sometimes tenuous) in the psyche of a culturally aware community. I believe we should look to any opportunity to see it, meet with it, tackle whatever it might be it is aiming to communicate (or not) and take in its cultural significance so we as individuals and as a nation can sense some level of connection to Contemporary Visual Arts and what it has to offer.
Visual Arts is a cultural endeavour people either seem to either love or loathe and that can be an interesting conundrum when it comes to community wide cultural development.
Visual Art can be a therapeutic device to assist in a healing process, as a way of communicating and exploring personal and wider cultural concepts. Therefore it can play a strategic role in connecting individuals, organisations and groups to the cultural fabric of the community.
There are possibly a few challenges to overcome for it to stand out as a 'device' the community can readily take on.
Appreciating the the value of Contemporary Visual Arts by the general community…

As a personal and community level device as part of healing processes

As a cultural exploration and expression device

As a communication device – e.g. recording and exploring historic events

To connect on a wider cultural level with the community

To cause people to think…
On so many levels the community can benefit from Visual Art as it can allow connections and exploration to take place. But the challenge seems to be making the wider community aware of its value.
To appreciate the wider benefits of Visual Art this link can give us a range of starting points to take into account.
How do we cause people to appreciate and value Contemporary Visual Art and investigate it as a viable device to connect and explore with?
Provide more opportunities for people in the community to have easy access to Contemporary Visual Arts

Develop ways to educate the viewers to appreciate and understand the works in suitable contexts

Encourage Art Teachers to explore community based arts access opportunities and do the same with their students

Open peoples eyes to community based Visual Art via the media, accompanying the promotional with the educational to ensure a reasonable level of information uptake.

Encourage more community connections between organisations at all levels so the community can readily experience Contemporary Visual Art

Show how the use of Contemporary Visual Art can add to the cultural depth of the wider community and ourselves.
These are starting points to getting the ball rolling, but surely there are many more? Are there any resources you know of you can recommend? Please add them by making a few notes in the comments.
There are many examples of the Arts connecting with the wider community, however I often find the performance Art areas seem to dominate, so it's great to see the Visual Arts stand up and get counted with great examples like the St Michaels Grammar School in St Kilda holding their 3rd Annual Art Exhibition and Arch Angel Prize.
Hopefully over time more schools and community minded organisations will forge alliances and add depth to our cultural heritage in a similar way.
As readers of this site will appreciate, I value the role Visual Arts can play for many people. In this case having the ability to bring Visual Art to the Students is a great starting point to exploring it's value.
I have long been of the view that many Schools should have Art Galleries and provide a 'portal' to the Visual Arts for their students, the staff and the wider community to be able to draw upon Contemporary Visual Art as a vital part of communicating, connecting and exploring all aspects of culture to give us greater depths of appreciation for the human condition.
Lesley Melody - 2011 St Michael's Arch Angel Award winner - "Lunar Australis"
Collecting Visual Art is generally considered to be a past time for the wealthy but has become far more accessible and therefore a positive option for investors who want to seek out its rewards.
One of the big attractions to Visual Art as an investment medium is the recognition of its long term performance by investors who have taken the time to explore and research the Artists and artworks across broad guidelines. It is an asset class which can have the potential for solid growth and can balance out an investment portfolio of shares, property and venture capital.
Investors have often diversified their portfolios in a range of standard asset classes but with market fluctuations, investing in Visual Art becomes a stable, longer term tangible asset with strong growth potential. With less volatility, this asset class often provides solid peace of mind for the astute investor looking for long term growth and solid income streams.
Visual Art purchased wisely, demonstrates a capacity for this asset class to be a long term store of wealth. The true investment value comes from purchasing quality items knowing they are a finite commodity, an asset which can not be repeated.
Investors can enter the market at various levels, and get great results however it often requires suitable advice, appreciation of the Artist, the works you want to acquire and good guidelines to follow. Then the investor should be able to make prudent purchases and in the process become involved in supporting Visual Art Culture.
We all have creative slumps and look for ways to explore and develop it, so here's a list to check out… Consider making your own list and sharing ideas with others on how they get creativity happening and try their ideas as well. Jot a few fresh ideas in the comments for this post.
16 Ways to get creative…
Make radical lists of ideas and options - even non radical lists can be useful
Have a way to record stuff no matter where you are - Journal, on your phone, on your laptop and or tablet
Write words madly as they come into your head and explore the options and connections they may create - could lead to a mind map
Spend time doing things other than your usual routine - consider how this makes you feel, explore that, record it somehow, does imagery come with it?
Take it easy for a while and imagine you are a truly fantastic person, what would be different if you were? - not saying you aren't truly fantastic…
Take breaks and do things you might not ordinarily do - rock climbing, mowing the grass, reading in a library, white water rafting, pruning roses - you get it, now do it
Follow up on your family history, note any 'quirky bits' - any leads from that?
Explore new music styles - Jazz, contemporary instrumental etc
Find creative people to be around - connect, share explore
Practice and develop your skills more - a moment of mastery could lead to a breakthrough
Make mistakes and explore them - OFTEN!
Work with others on projects - how do the dynamics of the process alter
Check out new places, spend time there observing, recording - any leads yet…
Figure out what makes you really happy and do more of it - Then find other things to make you happy
Read a page of a reference book, backwards! - Then make fresh sense of it
Take a look at your local culture, jot down some notes and explore options and possibilities which may give you ideas to get creative
You can see it here.
Here's just SOME of the results of a community getting behind it's Visual Artists.
How do they get this level of publicity? it's really quite simple and you could do it too.
Firstly an Artist stands up to get counted. What do I mean… Well to start with, Kerrie Warren, (mentioned in the link above) is not a 'shrinking violet', she will actively seek out opportunities and grasp them with both hands. She is active in her community in the arts administration side of things, and has been on various committees. Over time she has become the go to person when the local councils cultural section wants advice, or needs to shine a light on an Artist.
As time goes on this sort of effort can start to rub off, when it does, other people say 'hey I can do that too!' Another example is Peter Biram who works in the Gippsland region teaching Visual Arts… He gets himself in and on the media as often as possible, appearing in newspaper articles and not just about himself, often it's promoting the work of his students. He is also in his local communities cultural group and is instrumental in raising peoples awareness about Visual Art and it's role/value in the wider community.
Over time the media come to know these Artists and others as the 'go to people' and they get great media coverage. Just take a look at their websites and you will see what I mean, lots of links to media articles from TV news grabs to newspaper articles. (do a search for the Archibald prize and Peter Biram).
Then take a look at Gippsland Artists, their website lists a big bunch of active Visual Artists in the region, and this is moved along by the likes of Peter and Kerrie. Others get inspired by the coverage they get and before long a snowball effect starts to build.
Take a look about and see what media coverage you can get, and think about ways to explore the incredible promotional opportunities which are freely available to Visual Artists who care to go the next step and seek out opportunities, the more you look, the more you will find.
Have you ever been to a big museum and watched children looking at art?
Some are keen to move on, others giggle at the 'rude bits' and some just seem to become totally engrossed. For me it was somewhere in between, I got a splinter in my foot because I took off my new shoes to slide about on the polished floor, thankfully mum had a pair of tweezers buried deep in her hand bag.
Wandering about in the gallery I had two opposing forces to contend with. My Fathers Engineering perspective was one of logic and sensibility, Mum on the other hand was a bit more open to things.
I saw a few rude bits, a ripped canvas (It was meant to be that way) and was in awe of the stained glass ceiling in one space, perhaps more to the point I marvelled at people lying on their backs in public! Then there seemed to be an endless array of old and seemingly dusty Art and Artefacts.
It would be many years before I took a strong liking to Visual Arts and visit that gallery again, but the memory of that wintry Saturday afternoon will last a long time.
There is a great sense of satisfaction watching people discover objects in a painting, being asked to look for more 'things' and think about who, how,why,what and where. Especially the young with their innocent minds and fresh approaches.
What drew you to being involved in Visual Arts? Was it a memory of a gallery or museum visit? Was it because someone significant to you was an Artist?
The Responsibility To Help Others Find Art
If you believe Visual Art is important then perhaps there is a way you can assist others to appreciate it too.
Maybe you are new the the Art scene and are still finding your way, or perhaps a seasoned Museum and gallery visitor. Whatever the situation there is still something in all Visual Art zealots which causes them to appreciate the benefits of exploring Visual Arts. If you can somehow pass this on to others by exposing them to the rich cultural resources available in many books and galleries, then you may well have given someone a seed of love for all things creative and or cultural.
I'm not too sure if showing art to others is a highly responsible thing or simply something to strongly consider. Either way, sharing the bounty you find, can open minds and allow others to find out for themselves if Art is a thing they might want to know more about.
cre·a·tiv·i·ty
noun /kre-ativitite/
The use of the imagination or original ideas, esp. in the production of an artistic work

The ability to create

The capacity to produce something which is both unique and useful

The production of previously non-existent information. All new items of information are based on preceding ones, and they are "new" because they restructure the preceding items and/or insert foreign informational elements ("noises") into them.

The ability to think imaginatively and originally

Is the ability to produce something new, to generate unique approaches and solutions to issues or problems or opportunities.

The experience of thinking, reacting, and working in an imaginative and idiosyncratic way which is characterized by a high degree of innovation and originality, divergent thinking, and risk taking.

Using imagination and expressing oneself in art forms.
in·no·va·tion
noun /ine-va-SHen/
Innovation is a new way of doing something or "new things which are made useful". It may refer to incremental and emergent or radical and revolutionary changes in thinking, products, processes, or organizations. …

A new method, idea, product, etc
Creativity
Can be many things, to many people…
A notion.
A solution.
A beginning.
A pathway.
An opportunity…
Creativity can…
Allow us to explore.
Start innovation.
Engage our senses.
Give meaning.
Provide clarity…
Creative approaches
Explore options.
Push boundaries.
Tackle problems.
Mess with our minds.
Spark our imagination…
Creativity, it's all in the mind…
It's all about how we process and handle information which comes in to our heads via our senses.
Sometimes it's just having a different view or interpretation on things.
Creative approaches can seem silly or stupid to some, while others savor the viewpoint and will be led further.
Need a boost? use the Creativity Accelerator! - if that doesn't work then there is a problem….
But how do we explore it?
Is it something we are born with?
Is it something we can readily teach/learn?
Is it easy to explore?
Are there many resources?
Where do I start?
Exploring Creativity
Perhaps start by teaching that it's okay to make mistakes…
It's okay to explore outside boundaries…
It's okay to be silly and stupid, in the right context…
It might provide ideas which lead nowhere… but then again what if it leads you to an exciting new discovery?
Deeply observe things and then explore interpreting them in words, images, sounds, thoughts and even tastes.
BE OPEN! (to ideas and options)
BE FOCUSSED on the task (observe - meditate - single minded activity of any kind)
Research
Do an online search to find creativity boosting activities.
Compile a list of activities which are short sharp, easy to implement and explore.
Encourage others to do the same and compare notes.
Find things which work and then find ways to push their boundaries.
"Creativity is often a dialogue between concept and material.
The process of artistic creation in particular is not just a question of thinking of an idea
and then finding a way to express it.
Often it's only in developing the dance, image or music that the idea emerges at all."
Ken Anderson…
Lateral Thinking
Lateral thinking - Not thinking in a straight or linear fashion, having divergent thoughts not associated with the original idea, notion or course of action.
Outside the box thinking - hoping to solve a 'challenge' by taking a different route. Example free brainstorming, where whatever comes to mind as the idea is explored is jotted down to later see if there is an association to the main subject which this "lateral" approach may uncover.
Excuse me your
creative streak is showing…
Do we ask students where their 'creative streak' comes from, what it's about or anything to do with creativity?
How do we cause people to think about creativity in ways to make them want to explore it and do their own research?
How do you foster creativity?
Create a secure / supportive position for them (a situation where they feel all ideas are valued and they will not be "laughed at etc.")

Believe that the support team (YOU!) are qualified to provide direction and FULLY value creativity.

If you have a compelling vision for the notions and concepts of creativity, chances are others will find this infectious.

Explore mind-maps.

Get into brainstorming and taking things to a fresh new level and pushing boundaries.

Invite them to research what creativity is and present it back to you or the group as a project.

Get talking about it and finding ways to be creative - innovative and relate it back to the 'real world' then move the goal posts to explore fresh boundaries out on the lunatic fringe.
BE OPEN!
(explore possibilities)
BE FOCUSSED
(determined - compelled - fixated - enraptured)
A couple of secondary students have jumped in to the spotlight with an article in the Sydney Morning Herald about their fashion blog. take a look. Well done guys!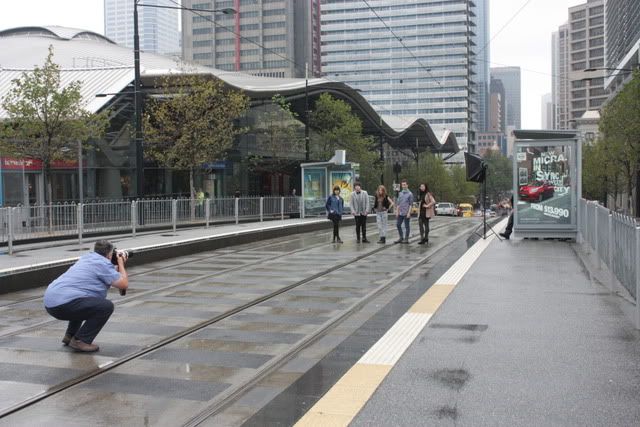 I sense there is an unease, a challenge, a difficulty but I am not overly sure if it's just me or others are noticing it too.
It was always an issue when I taught and as a student… Art Theory.
Any time the Art Teacher came up with information which had to be written in Art Class the students TURNED OFF. then magically switched on again when the prac work was back in action.
So how then do educators give both the prac side and the "theory/history" side a workout in a way which suits the audience (I'm thinking secondary students mainly but leading on from there too).
Lets take a look at what happens.
A curriculum theory is 'devised' "We ned to add a written component to our hands on subject".
Then comes… "What will we cover?" analysing art - using colour - how to processes - artists and their work - timeline and historical info.
The work - "Lets create a bunch of worksheets and go from there" Frankly this is just like "Students take down these notes…" a thing I dreaded as a student. (I am from the start of the photocopier era they were so expensive back then!) "then answer the questions in long sentences." at the end of the class the paper went in the bin, retention of info, minimal.
Is there a better way, are Teachers doing more than JUST handing out info for students to struggle with the writing side of things? Are we causing students to be deeply engaged in learning, in Visual Art… or are we merely 'going through the motions' rather than searching for excellence.
Lately I have come across 'game mechanics' this is the science (and art) of engaging players in computer games and the various ways the developers use to get people in, to get them "addicted" to the game. (I was addicted to Pac Man as a late teen). Ibeleive it offers GREAT insights into ways we can develop things to be more engaging, to be more in depth, to provide information which students will find far more engaging in the long run.
I'm interested in what can be done to ensure students time in Art class is useful, informative, 'fun', engaging and generally of value. I would love to see things which were perhaps more short sharp shocks of info they can get their teeth into and move on from there.
Perhaps instead of a big sheet of ho hum text there could be small Art Cards, picture on one side, info on the other which they have to write about. What about short sharp tid-bits of info on Artists interesting factoids which get students thinking and wanting to explore further.
If you are thinking about handing out a sheet which will take a lesson or two to complete, then I HOPE you will think twice and explore a fresh approach.
Do you have ideas? Have you seen better approaches… Share in the comments below!
Visual Arts has a role to play in encouraging us to search through the "fragments and bigger pieces" of our world and to piece them together in ways which allow us to explore, describe, contemplate, manipulate and bring them alive.
There is some form of social or emotional responsibility to ensure people have access to the Visual Arts. Through its exposure they can discover  forms of expression and exploration, which might one day assist people to define who and or what we are and or add to our cultural depth.
Being a Visual Artist is no easy path to take, with so much trial and error, stances, notions and stories to tell. Some will gain solace in pursuing its lofty ideals while others may struggle and be left drained by it's challenging demeanour.
The role of Visual Arts should be clear, as a necessary device for the creator which defines and allows us to explore. As well as a status device and thing of aesthetic pleasure for the viewer.
Let's value our Visual Artists and praise their work as a vital part of our society's health and wellbeing.
Untitled Steve Gray 2010
The long winding and very steep driveway meant the two hour journey in hot summer sun was over, the home at the top of the hill was framed by an oasis garden. It was the home of family friends at Metung in Gippsland Victoria.
Our family had a deep connection there, these warm and welcoming friends took us fishing and swimming and always managed to fit us in (all six of us at our peak!)
The home was an old miners cottage with a front veranda with a balustrade and a view across the small valley out front.
The gardens held a range of fruit trees and vegetables. At the height of summer the nets kept many birds out of the fruit trees but gave the birds a reason to be raucous pests upsetting the tranquility of this warm oasis.
Once ripe, the bountiful fruit would be harvested and eaten, bottled and transformed in to all manner of delights providing delicious reminders  until the next season, often with plenty left over to share with family and friends.
My Dad had met "Uncle Alan" during the 2nd World War and had been mates ever since. Dad spoke of visiting Alan and Edna after the war and how Alan had built on a room out the back if ever he wanted to stay a while, which he did. Dad spoke of the home-cooking, eating ripe fruit off the trees and enjoying being out on the lakes fishing in Al's boats. Fortunately for us as kids we got to do the same and it often gave our long summer school break a special highlight.
Although all this was a great way to spend short summer stays and grow up exploring beaches, bays, fishing and walks coupled with great country hospitality I still remember it was not always a bed of roses, there would be great times and lean ones as well, sometimes we would take food and bring most home, and other times the opposite would be true.
I recall saying to Dad, "Why did we leave all the food this time?" his reply was simple "Sometimes other people have greater need than us Son." I remember watching closely for signs of 'lean times' after that but rarely knew when things were lean or not.
As time went on they prospered and made it through challenging times, as if they knew the lean times would pass.
I guess it meant they appreciated the prosperous times more as if being taught by the fruit trees that abundance comes and goes, it's how you deal with the harvest to make the abundance last until next season.
We all need a way to handle the harvest and make it last until the next abundant season. In our situation this can be a metaphor for the Visual Art and the buyers thereof who want what we have, but sometimes not as often as we might like.
At first they might see the 'fruit' forming on the trees, then see the harvest ripen and then taste the sweetness first hand and enjoy that blissful moment of fresh juice running down their faces!
Now a delightful memory is formed and they want to soak up more, but unless there is a way for the fruit to be preserved until next time, then the sweet memory might fade soon.
The challenge is Galleries and Artists often hope more buyers will drop in and eat the 'fresh fruit' rather than building on keeping in contact and feeding the buyers with sweet offerings from that previous bountiful harvest.
Here are a few ways to keep building on the initial harvest to build a stronger base of delighted customers.
Get their details - Build a database now and keep in contact, if you want sales you are in business and you need to market to them now and for a long while to come, use the list to send them info on what you are up to.

Develop a plan - Contact details are one thing, using them is another… A plan, perhaps start with a calendar and mark out when you want to contact them. Before an exhibition, after an exhibition, all up find about 11 ways to keep in contact during the year.

Get Blogging - You want to let new and old know about what you do or are doing, new work being developed etc… this can be apart from your 11 contact points.

Use easy software - There are many Customer Relationship Management (CRM) software options out there, use one and put the details in there and milk it for all it's worth. (remember you are in business!)
While the first contact point with you might have been nice, your efforts to remind them and build on the sweet offerings you have will often be the saving grace when things are lean.
Keep your fruit trees nourished and well watered, for the winter of no fruit can be followed by the summer of bountiful harvest, how you manage that is up to you.
© 2011 Steve Gray
Arthrobots is a site showing the work of Tom Hardwidge, amazing creativity and very detailed skills. Is it art or artefact… You tell me.
Thanks to Jo Morgan for sharing this with me,
do you have any Visual Art sites our readers should know about?
There were no new ideas in Art…
Try creating one of these or a variation on one or three of them. Remember it's all about starting points, where you end up might be another thing entirely!
Imagine drawing a bunch of objects made out of glass, but things which were very improbably glass objects. Or try clear blow up plastic. Try a bunch of "real' Objects, however draw them as completely see through etc. Connect it to a theme you might be working on at the time.
Do 20 drawings really fast, of anything, set a timer to 2 minutes and draw a complex thing or series of things, try altering your position to get fresh views and challenge yourself each time. perhaps try one room and move your easel each time.
Go black and white - Grab a calligraphy brush or similar, and some cheap ink or other media which will flow readily. Now make a series of five images which you work to some sort of pattern you think up or have seen. Try another five until you have about 30 or so images (maybe smallish ones) and see what stand out to  you from the series.
Grab a theme from todays news, and jot down a bunch of ways you might respond to the theme, now draw or jot down how you might tackle the theme in a medium very different to what  you currently like or do. Is that an easy process or… how come?
Take the theme and create a collage from newspaper clippings, explore it like a treasure map and see what you can find by exploring, perhaps try using tracing paper over the original image and taking key shapes and developing an image from there.
Stylise a complex drawing or photograph, then make successive images which reduce the image to its most basic. How many images did it take? what could you do with the images to make a single artwork?
You are given a really big commission for a hotel foyer, they want a massive image four metres by four metres. It can be 2D or 3D, what sort of a mock up can you create to give the client an idea of what you might propose. How will you show the scale of it?
Make a mini exhibition, the sort  you might find in shoebox created by a primary school student, now make it for adults… What would you do differently to the Child?
Get a bunch of  old discarded fence palings, what can you make from that? Paint it, Sculpt it, join them together, use them as frames and about a hundred other options.
Create a series of five similar images, then photocopy them and adjust the settings to create different images, pic out a few you think can be coloured to make the images have a fresh meaning or approach. Or try scanning them and adjusting in am image program, print and colour to suit.
Write a bad piece of poetry and illustrate it.
Put one word on a page and decorate around it in a way which is different to the meaning of the word… eg. the word love, decorate it in a violent fashion. Perhaps explore a range of opposite options.
Grab a roll of cheap paper (we used to get end rolls from a newspaper printer) and roll out a BIG piece 3 metres worth, now draw on it as if it was an important piece of art you are creating… Is it any different to an expensive piece of paper, and what works well image wise for that scale?
What can you make from all this? Lots of things, clearly… Now jot down a few options of  your own and share them in the comments section.
Email me some of the images you create I can list them on here. (Small Jpg's please.)
There are many teachers who invite students to take other artworks and appropriate them, altering things to create a fresh view if you like.
Like many things Visual Artists use to generate and develop ideas, this has long been a valid one, either as a way to appreciate another artists work by making a direct copy, or altering it in some way to add interest to the original or to alter the meaning of the original in some way.
Many appropriated works I have come across still hold a strong connection to the original (like the mona Lisa examples above). I was thinking perhaps the work could be taken further without being just a creative springboard towards creating a new work on a similar theme.
For instance take a more abstract piece and alter it to look like a work in the Artists style but clearly your own, or what about taking a digital photo of the image and altering it radically in a photo manipulation program and seeing how much unlike the original you can make it.
Perhaps you take a work done one way (a painting for instance) and make it a lino cut or a drawing.
Consider making a work which may still have original elements which you play around with to create a new composition. I figure you could have a lot of fun this way and find some fresh areas to explore.
When it comes to making 3D art, there are people who might say, "Oh it requires too many tools, takes up too much space, gets too messy". etc… Well it doesn't have to be that way, it can be scaled down in some instances, and does not have to be permanent either.
Here's a way to explore some 3D and get you thinking about the differing visual values 3D Artists have to deal with (space and form being just two.)
Get some lengths of poly pipe (PVC pipe plumbers use) and create a suitable layout, of a range of pipe lengths standing on their ends.
Now decorate the pipes.
Thoughts…
- Varying the diameter of the pipes can add interest.
- What sorts of paints can be used?
- The pipes can be sanded and repainted.
- Consider limiting the amount of pipes, try working with just five.
- What if the base area of the work was limited? How does that change things?
- What historical connections can we make? Totem poles, Tiwi Poles, Message Sticks, bollards.
- What could be added to make the poles say more… Words, other materials.
- How will you design them on paper?
- How will you transfer the designs to the poles?
- What sorts of themes can you explore with these? How well does the medium fit to the theme?
- If they are on a base, how will they be attached?
- Are other Artists doing this sort of thing? How will you find out…
- What will you write in your visual diary to show the process of working with the poles?
- What are some of the ways you can extend the activity to give it more impact or interest?
- What examples can you find as a basis to explore from?
- Which are better? realistic images or abstract ones?
- What if the poles are done in a range of similar tones, rather than motifs?
So there are a few starting points to explore. Now see how many variations you can come up with, feel free to send me some pictures to post in here as examples.
When it comes to chatting about Art, people can freeze up, not really sure about what to say, while others will talk until everyone has long gone to sleep. For some studying how to use effective Visual Arts Language is a solid part of their course, for instance in VCE Studio Arts.
The key to being able to talk about anything is knowing the words to use which fit to the specific topic, in this case Visual Art.
Consider talking about a sport you may have an interest in. Over time you have developed a range of words related to the topic to give you the skills to discuss it, this may have happened purely to listening to people talk about the sport on TV, radio, reading newspapers and magazines. For many it comes easy as there are lots of ways the sport is described and analysed, It probably does not take long to get your head around the topic.
Visual Art on the other hand is often a challenging topic to discuss, for example many of us have seen the sunday afternoon arts programs which have an interviewer or critic ramble on about the complexities of some artists work, while the rest of us sit and think "HUH!"
The challenge is getting to know the words and what they mean, a bit like learning another language and for many the words used at the higher end of the arts analysis scale will certainly be that way.
How do I get started in learning this new language?
Grab an Art Dictionary and read it… (Okay that would put anyone off..) flip through it and pick out key words which intrigue you and make a list or tag the pages with post it notes for further investigation, have a competition with your friends to find the craziest words in this new language.
Make a list of the words used to describe Visual Art and add in their meanings. Start with simple descriptors and go for more complex words over time, build on it.
Use these words often, practice checking out some works of art using the words to assist you to describe what you see.
Watch critical evaluations of artworks on TV or Video and jot down some of the words they use you may not be familiar with. Now look up the meaning of the word.
Read about Art, the more you read about art the more you will learn about the use  and meaning of the words.
The written and spoken language we use to explore artistic endeavours helps us to appreciate the work and possibly give us an insight in to the work. Art does not have to be explored through daunting complex words, but in time you might find the complexity of the words diminishes as  you build  your proficiency.
Here are some artist interviews you might want to check out.
http://stevegray.com.au/blog/dr-gillian-turner-artist/
http://stevegray.com.au/blog/exhibition-kerrie-and-dragi/
http://stevegray.com.au/blog/michelle-lee/
Enjoy!
Okay the heading could have said "Colour - working against it…"  as sometimes that seems like the case.
Many students (and Artists for that matter) find working with colour a challenge, getting one colour to work well with another etc. So I'd like to challenge people to work with colour and build a resource they can refer back to time and again.
Here's one I prepared earlier…
There are books on how designers can use colour and they have fancy cutouts and flip through sections of delightfully printed colours in many combinations, they can be useful tools to play about with and use.
To really make colours work for you, try and build a resource you have had to work on, mix the colours and try various combinations.
Imagine you have trouble using a particular shade, tint, hue etc. so it makes sense to work with that colour asa  starting point. So perhaps try a series of A5 cards where the colour in question is painted in the middle and you try various colours around the outside.
After a while you will probably end up with hundreds of combinations you have explored. Think about varying shades of the one colour as well.
You could try doing the cards hard edged and accurately painted, or just a few dabs of paint quickly applied.
In the end you should be able to develop cards for a very long time and find colour combinations which work for you.
Teachers: Consider setting an ongoing colour exploration task like this so your students can get into colour on their own terms and create a resource they enjoy working with.